#FloatingFiction Book Reviews: The Comeback Edition
Updated: Mar 9, 2020
Well Grand Rising, good people!
Guess who's back???? I appreciate how you guys have held me down in my impromptu break. I got hella inboxes and tags and mentions from so many of my IG fam and followers, keeping me encouraged the past couple of months. Ya girls's been struggling. But here I am, back and ready to drop that good tea about the best and undiscovered and/or underrated Black authors.
And my God... What a blessing I came up on in the past few weeks.
This week's read was "Thickerella" by a fellow Chicago native, Tanzania Glover.
Favorite Quote:
"Bullies love attention and once you starved them of it, they wouldn't have an incentive to bother you anymore..."
From the Back Cover:
"A Cinderella story as you've never seen it before." "After the untimely passing of her father, Tillar Reed had to grow up quickly and let go of her childish desires for fairytales, romance and true love's first kiss. But when she finds herself back home for the first time in years to keep her father's house in the family, she meets an unlikely Prince Charming figure in Cameron Logan. Now she has to decide if this is really the happily ever after she dreamed of once upon a time or if she'd rather keep her options open because glass slippers just aren't her style anymore..."
First Impressions:
Man... When was the last time you enjoyed a book?
I love a stand alone novel. I don't hate on novellas; I just really like finishing a book and feeling like I read a whole story. Sometimes novellas feel rushed to me and I like to enjoy a tale's unfolding. So when I read in the preface that the author intended this to be a novella but changed her mind, I was relieved.
But seriously. If you are like me and read almost constantly, you maneuver your way through several books that leave little to no impression on you. But when was the last time you came across a story that you really, Really, REALLY liked? Because that's what I found in this author's work. After the first few pages, I went back to Amazon and downloaded ALL of her other books.
And I DM'd her on IG. I had to tell her about herself. Because the way this story captured my attention was unfair.
Miss Tanzania is playing dirty with this one, y'all.
Who? Tillar Reed a woman who seems to be the epitome of confidence. She is living her best life in Atlanta, a graphic designer and artist that cowers in fear of absolutely no one.
A self-proclaimed plus sized Goddess who stands tall in her stiletto heels, Miss Tillar knows who she is, she knows what she wants and she knows how to get what she wants. She spent her formative years grieving the loss of her dad, and growing up under the tyranny of and seemingly evil non-stepmother. Her spoiled brother and constant lists of chores and responsibilities had her fleeing Chicago as soon as she graduated from high school, promising never to return.
What?
Tillar spent hours upon hours trying to erase the shadow of her childhood traumas and was finally in a place she could glide through life. She had an amazing career, good friends, a fierce wardrobe, very little debt, a healthy savings... She was living the dream for real. Until her mom called one day and told her that the home her father built for his family was about to be foreclosed on. Despite the ridiculously uncomfortable relationship that she has with her mother and disgustingly spoiled older brother TJ, she did her good daughter duty. She turned her life and her savings account upside down, breaking her promise to herself and returning to Chicago to save her childhood home.
When?
Once she packed up her life and drove north, she fell right back into the same rut that she left in the first place. Her mom was drinking and gambling, spoiling her grown ass brother who was sitting in the same spot that she left him in: on the couch playing video games, except this time with 3 kids and 2 baby mamas.
This girl emptied her savings and relocated, whether it be temporarily or not, to save her mother and brother from homelessness and was nothing but attacked with verbal abuse. The teasing and hate was real.
Tillar took all of the drama in stride though, hooking up her childhood bedroom and hunkering down to pay these bills off so that she could rush back to living the life she had built in the South. One Saturday afternoon, she decided she needed a haircut and went to the barbershop where her brother claimed to make his money when she met Cam Logan, owner of the shop and TJ's boss.
And, in keeping with the fairytale theme of the book, that's when the magic began.
Where?
Cam falls as hard for Tillar as any man can fall for a woman. He had no second thoughts and no questions about what he wanted, and he wanted Tillar. He gave her the best of him, even buying a new bed for his apartment when she commented that the one he had was too close to the floor for her liking.
Yup. He was ready ready.
She fell a bit too, but not as hard and definitely not as quickly. She had compartmentalized her whole life and there was no space for a relationship.
Sex? Yes.
Love and feelings? She couldn't be bothered.
Why?
Cam seemed perfect. Financially stable, cute, gentlemanly. He was constantly and consistently getting "all of the As and all of the pluses". But Tillar was mildly fresh out of an engagement and her faith in men was failing. She knew that she wanted to be spoiled, but she could spoil herself. And she knew that she had tried love before and it seemed to be too much of a gamble and she didn't like to lose. So she satisfied herself with making Cam her Chicago Bae. But once her mom's debt was paid, she would have to leave him where she found him so she could return to the life she loved in Atlanta.
How?
But Cam wasn't going. And when her mom got wind that a man was interested in her for real, Miss Michelle felt it her duty to bust her daughter's "happily ever after" bubble, and TJ just couldn't understand why a man like Cam would find is fat sister attractive. They both pitched a series of fits and tried to convince Tillar that no man was going to be as good to her and Cam seemed to be, and Tillar started to believe her. I mean... It was her mama, after all. She wasn't going to steer her wrong... was she?
And an unexpected event at the end showed just how far unhappy people will go to spread their dread around I was disgusted. But just like the Queen she is, Tillar rose above and came out like gold.
Last Thoughts...
I haven't enjoyed a story this much since I proofread "The Never List" the first time. I'm talking about... from the very beginning, I was hooked. I didn't want the good reading to end. That's why I went and downloaded the other 2 books. And had the nerve to have an attitude when I saw that the next book in the Faded FairyTales Series wouldn't be released until July 3rd. And last night I got a notification that the 3rd installment wouldn't be released until December 4th, my first thought was...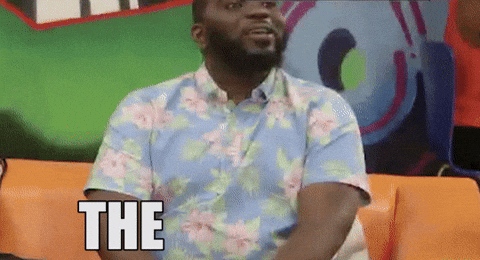 How dare you let me finish one book, be halfway through another one and have the next one queued up on my iPad immediately following this one and not have another book available for me to read as soon as I'm done with the 3rd? How dare you, Miss Tanzania?
My thirst is real.
Meanwhile, I'm only half done with the third installment of my own series. Look at me, the pot talking crazy about the kettle...
Whatever. I said what I said. I love this author's writing so much. I literally LOVE her writing style, her execution, her storytelling. And it's not short read. Took me a minute and I kept trying to steal time to read it. I was rationing this story because I didn't want it to be over. I enjoyed it that much.
I mean it y'all. I have heard readers talk about their author crushes and... Man. I think I have mine. Because, I can already feel my "I hate it here" rising up for when I'm done with the next book.
Damn It, Tanzania Glover. You got me all up in my feelings over here.
But for real, I honor your gift Sis. That Chicago shine is real, lol. Must be something in our water. Thank you for sharing your talent with the world. I look forward to the day you really blow up because if this is just your beginning, I want to stick around for the rest of your writing career.
"Thickerella" by Tanzania Glover is available on Amazon in Kindle download and Kindle Unlimited if you have a subscription, or just click here. Make sure you check out her other books as well. Equally as enjoyable as the first. Follow the author on IG @tansaidwhat.
And make sure you check out my very own best-sellers, "The Never List" and "The Marriage List". "The Best Friend List" is currently a work in progress, release date to be announced soon...


And if you or someone you know is a Black author who would like their book reviewed on my blog, please send me an email at thedamnitsamblog@gmail.com or DM me on IG @theedamnitsam.